Our Team
Staff of Stone Veterinary Hospital
In order to provide such a comprehensive approach to veterinary wellness for the benefit of your pet, we place great importance on hiring only the most highly trained and compassionate veterinary technicians and nurses. Each member of our medical team supports alternative veterinary medicine, which is an important part of our practice. Every staff member at Stone Veterinary Hospital undergoes continuing education and new employees participate in a structured training program.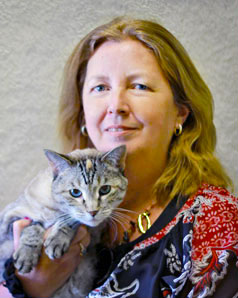 Lisa Jackson, Practice Manager
Lisa joined Stone Veterinary Hospital in 2007. As the practice manager, her responsibilities include client service, insurance processing, scheduling, inventory, and accounts receivable. "Stone Veterinary Hospital is truly the most compassionate place for both our clients and their pets," she said.
She particularly loves working with clients and their pets and helping people find new pets through her involvement with local animal rescue groups.
Lisa has over 35 years of experience in the field and is a member of the Veterinary Hospital Manager Association.
Lisa's interests outside work include gardening, reading, animal rescue, and history. She has three Siamese mix cats, Eli, Esmirelda, and Peyton.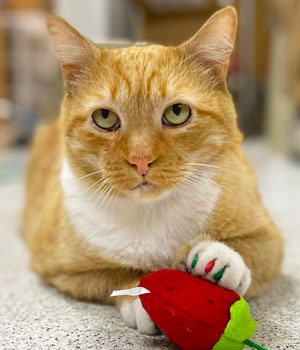 Gronk, Supervisor/Hospital Cat
Gronk is proud to say that he has been employed in animal-related fields his whole life, sharing his vast knowledge with our team since 2018. He's particularly talented at providing the staff with someone to worship at work.
His daily responsibilities include overseeing the staff, comforting feline patients, and sitting on keyboards.
Gronk meows, "My humans love me as much as their pets at home. They take care of me, so I don't have to deal with finding my own food or safe places to sleep."
All the humans of Stone Vet are his pets and employees. Currently, he's learning to give paw, sit, and speak in exchange for treats. During his 22-hour breaks, he loves napping, looking out windows, and soaking up sunshine.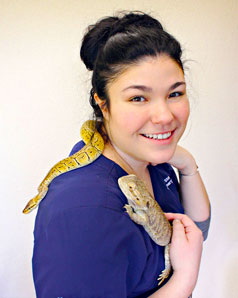 Ashley, Lead Veterinary Technician
Ashley, our talented Lead Veterinarian Technicians, began working with Stone Veterinary Hospital in June of 2018. She has been working in the animal related field since childhood and loves her profession considerably. Her passions in veterinary care started by riding in competitions, working with horses, and providing equine care. Eventually this culminated into a desire to help a broader range of animals in need of medical attention.
Ashley assists our veterinarians with examination, surgery, phlebotomy, radiology, and much more. She is also is great with customer service and communicating with our clients to provide more information and comfort. As a graduate of the University of New Hampshire, Ashley majored in Equine Management. She also possesses a degree in Veterinary Technology from Cedar Valley College and has been working as a Veterinary Technician since 2014.
Some of Ashley's hobbies include reading, traveling, and spending time with her dogs and husband, Caleb. She owns a black and tan Coonhound, named Mayzie, and a Red Heeler named Bentley.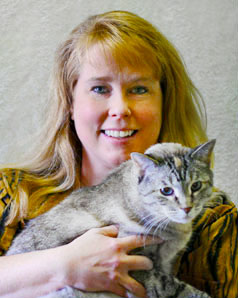 Jessica W., Surgical Technician
As a surgical technician with Stone Veterinary Hospital since 1998, Jessica's responsibilities include surgical prep, anesthesia, and patient care. She especially appreciates "working with some of the best veterinarians in the area" and the new technologies that are available at the hospital.
Jessica earned her bachelor's degree in animal science and her associate's degree in veterinary science from the SUNY Delhi and SUNY Cobleskill. She has a horse named Argento.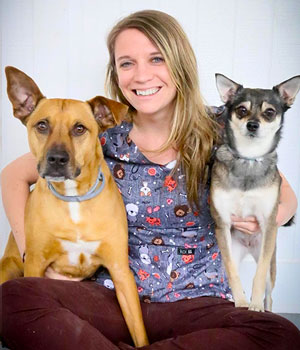 Brittany, Surgical Veterinary Technician
With five years of experience in animal-related fields and trained by many doctors and technicians, Brittany has been a surgical veterinary technician with our team since July of 2021. Known for her friendliness, Brittany enjoys helping all the animals that come into the hospital feel loved. Her responsibilities include prepping patients for surgery, monitoring anesthesia and vitals, IV catheter placement, bloodwork, and diagnostics. She also handles x-rays, cytology, and appointments.
"Everyone at this hospital is great to work with. We feel like family sometimes which makes coming to work a lot nicer."
Brittany has two mixed-breed dogs named Cedar and Willow and a domestic shorthair cat named Dwight. In her free time, she loves being outdoors all year round. She loves to hike with her boyfriend and frequents the local ice cream shop. Brittany loves to be in the mountains–when she's not hiking, she's trail running, kayaking, biking, and camping many weekends in New Hampshire. Her dogs Cedar and Willow also love to go on hiking trips.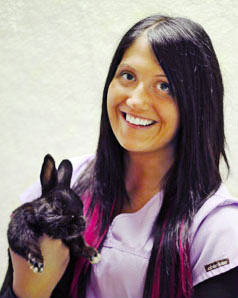 Kate, Veterinary Technician
With over 10 years of experience in the veterinary industry, Kate has shown to be a valuable Veterinary Technician here at Stone Veterinary Hospital. As a graduate of Penn Foster, Kate has a degree in Veterinary Technology and is laser therapy certified. Kate helps to administer the highest standards of veterinary care imaginable and does so with a radiant smile.
Kate is responsible for helping with surgical preparations, assisting in surgeries, monitoring anesthesia, and assisting in examinations. She takes her talents one step further by running in house lab work, preparing prescriptions, and doing thorough dental cleanings. Kate finds a great deal of satisfaction in being an advocate for animals and comforting sick or injured pets. She owns one pet of her own, a domestic short hair cat named Dexter.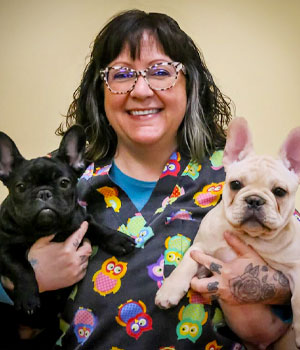 Sherry, Certified Veterinary Technician
Sherry is a lovely and talented Certified Veterinary Technician who has been working with Stone Veterinary Hospital since November of 2012. She brings with her a passion and wealth of experience, as she has been working in the animal related field for over 24 years! Prior to establishing herself as one of our phenomenal CVT's Sherry worked in specialized care for small animals and in veterinary medicine. She is very knowledgeable in both pet nutrition and raising puppies.
Some of Sherry's responsibilities here include preparing and monitoring anesthesia for surgery, taking dental x-rays and providing oral cleanings, record and history taking, and client education. She also is a great deal of help when it comes examinations and assisting her fellow team members and our veterinarians. One of her favorite aspects of working with us is getting to educate our clients on the best nutrition available, and seeing a patient improve from dental procedures.
"The doctors here are very caring and talented individuals," Sherry says. "We are all very dedicated to our clients and their pets. We are like family."
Many of Sherry's weekends are spent at dog shows. She loves to show and breed French Bulldogs and has been doing so since 2001. Sherry is an active member of the French Bulldog Club of America and owns 2 French Bulldogs herself named Sham and Spiral. She also owns a Pitbull/Lab mix named Riley, 2 cats, 5 birds, 8 turtles, and a chameleon. In her down time, Sherry can be found spending quality time with her pets and fiancé. They enjoy being outside, playing in the yard, and going for the occasional hike.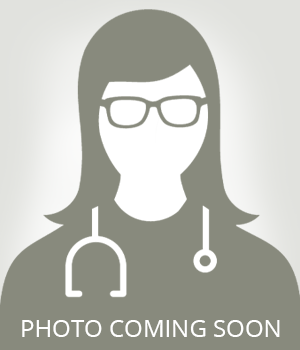 Cheyenne, Veterinary Technician
Cheyenne has a deep passion for exotic animals and a wealth of experience in emergency medicine. As a part of our team since June of 2022, her responsibilities include helping doctors with appointments and surgery, performing blood draws, IV catheter placement, giving medications, and general patient care.
Asked why she likes working on our team, Cheyenne says, "I like the family atmosphere. The doctors really practice good medicine, and the clients always seem happy."
Cheyenne has a variety of pets: three dogs, one lovebird, a snake, 13 frogs, two tarantulas, one fish, one axolotl, one hedgehog, and two hairless rats. She loves agility training with her German Shepherd, Juno.
When she's not working, Cheyenne loves spending time with her significant other and two kids. She gardens often and loves going to trivia nights as a family. She also enjoys art, books, and horseback riding.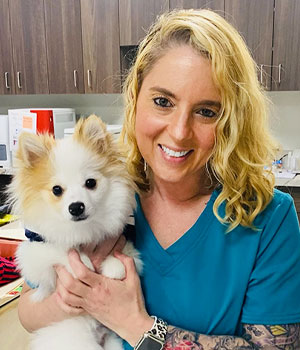 Jessica D., Veterinary Technician
Jessica has been a positive full-time veterinary technician with our team since January of 2021. With four years of prior animal-related experience, she still loves learning something new every day because of the love she has for animals.
"Everyone here is very welcoming and loving to the animals and their families. I love my Stone Vet family. I feel right at home every day I go to work."
Jessica has two dogs named Rory Lane and Malcolm. She also has three guinea pigs named Lady Marmalade, Linen, and Twinkie, and two rabbits named Mr. Fuzz Bunz and Sophie. During her free time, Jessica takes care of her animals and spends time with her kids.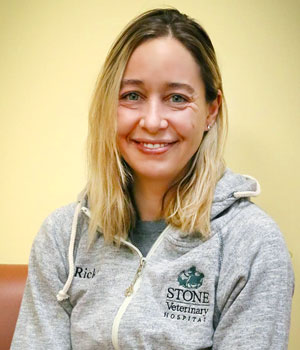 Jessica R., Veterinary Technician
As a veterinary technician with our team, Jessica's responsibilities include assisting with appointments, seeing technician appointments, assisting in surgery, laundry, wrapping surgery packs, and filling prescriptions. Her knowledge and experience with emergency medicine help her provide animals with the best care possible.
In her free time, Jessica loves spending time with her coworker and friend, Ashley.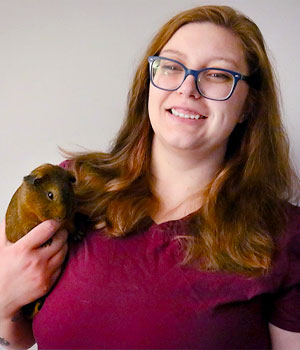 Kaitlyn P., Veterinary Technician
Kaitlyn has been a valued full-time veterinary technician with our team since June of 2020. She holds an Associate of Veterinary Technology from Northwestern Connecticut Community College and is a certified veterinary technician as of September of 2020. Willing to help any department, Kaitlyn's responsibilities at our hospital include restraining, drawing blood, taking radiographs, monitoring patients in surgery, and assisting with ultrasounds.
"I love how everyone here is like family. I learn something new every day."
Kaitlyn has a guinea pig named Maple and six cats named Ace, Whiskers, Remy, Calix, Gus, and Leo. When she's not working, Kaitlyn loves reading, drawing, coloring, video games, photography, hiking, camping, fishing, baking, horseback riding, and painting.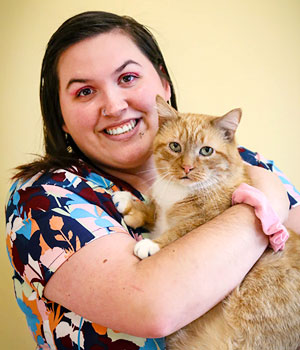 Kaitlyn T., Veterinary Technician
Known for her optimism and eagerness to learn, Kaitlyn has been a part of the Stone Veterinary Hospital team since June of 2020. Her favorite part of the job is the ability to repeat skills so she can learn and improve. Her job responsibilities include restraining, getting histories from clients, filling medications, helping during surgery or ultrasounds, injections, blood draws, and SQ fluids.
"Stone Veterinary Hospital welcomed me with open arms; they taught me so much in a short amount of time. They explain anything I have questions about without judging."
Kaitlyn has eight cats: Ash, Riley, Cheddar, Teddie, Reese, Callie, Snickey, and Magic. In her free time, Kaitlyn loves baking goodies at home, using her Cricut machine, camping, and spending time with her family.
Nicole, Licensed Veterinary Technician
Nicole has been a veterinary technician with the Stone Veterinary Hospital family since September of 2020 with 10 years of animal-related experience. She is also licensed in CT as a Certified Veterinary Technician (CVT) and has an Associate in Science degree. Her job responsibilities include assisting the veterinarian with appointments, surgery/anesthesia, filling prescriptions, and handling emergencies and hospitalized pets.
"Working at Stone Vet is like working with family. Everyone is welcoming and understanding, and there is this sense of companionship."
Nicole has greyhounds named Ellie Mae, Oliver James, Maggie, Annie, Dad, Trudy, Nina, Nixa, and Macey. She also has two Nova Scotia Duck Tolling retrievers named Reeses and Butters.
Nicole is a member of the Nova Scotia Duck Tolling Retrievers Club, American Poultry Association, and board member of We Adopt Greyhounds (WAG). In her spare time, Nicole loves working on her farm or volunteering for WAG. She's also welcoming her first child in the spring of 2022! In the summer, Nicole enjoys dock diving with her dogs and attending poultry shows with her chickens.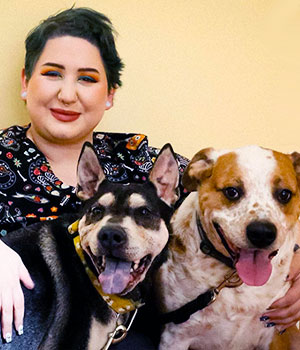 Sarafina, Veterinary Technician
Sarafina is a compassionate member of our team who has been with us since December of 2021. She has a B.A. in Spanish Language and Culture from Central Connecticut State University as well as music and biological studies. Currently, she's working on becoming a veterinary technologist at Penn Foster.
As a veterinary technician, her job responsibilities include getting medical history from owners, helping doctors, getting vitals, injections, drawing blood, and diagnostics.
"I enjoy working at the hospital because there are people from all walks of life. Someone is always willing to help, even if it's for something small."
Sarafina has eight pets–an axolotl named Ricardo, four cats named Azurah, Razum-dar, Sagira, and Chief, and three dogs named Meridia, Vivec, and Luca. She loves teaching her dogs tricks–Luca is on his way to becoming a certified therapy dog. When she's not working, she loves playing video games, crocheting, making soap, gardening, hiking, playing the saxophone, trumpet, and mellophone, and drum corps.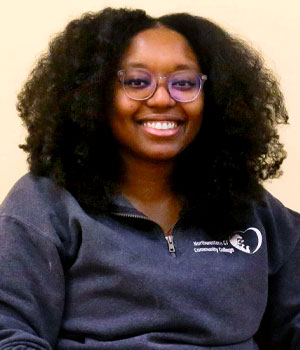 Shonda, Veterinary Technician
Shonda has been a veterinary technician with our team at Stone Veterinary Hospital team since December of 2021–her favorite part of the job is seeing owners happy after taking care of their pets! She's notorious for getting songs stuck in everyone's heads. With four years of animal-related experience, she also has her certification degree in Veterinary Technology for the state of CT.
Shonda's job responsibilities include preparing vaccines, creating new medical notes for the DVM, safe animal restraint, and running in-house labs and cytology.
"I enjoy working at Stone Veterinary Hospital because I learn so much from each doctor. Everyone here is so kind and willing to teach everyone anything, and I love it!"
Shonda has one four-year-old cat named Syracuse, who she found in a cardboard box with kittens while working at her first veterinary hospital. In her free time, she loves playing video games, watching anime, attending anime conventions, investing in stocks and crypto, working out, and watching horror movies.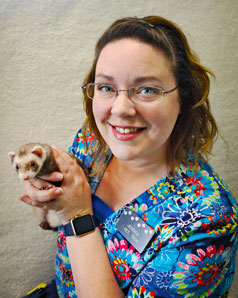 Jessica S., Client Liaison/Veterinary Technician
Jessica has been a highly experienced and valuable member of our team at Stone Veterinary Hospital since September of 2015! With general practice and emergency hospital experience along with 17 years as a technician, she loves interacting with clients and helping as best she can. She has certifications in cold laser therapy and Fear Free Practice.
"Every clinic and hospital I have worked with has shown and taught me all different things. There is always more to know."
She has six cats, though in the past Jessica and her fiancé owned cats, dogs, turtles, and ferrets, and cared for wildlife and feral cat colonies.
In her free time, Jessica loves spending time with family, cooking with her fiancé, and playing RPG video games.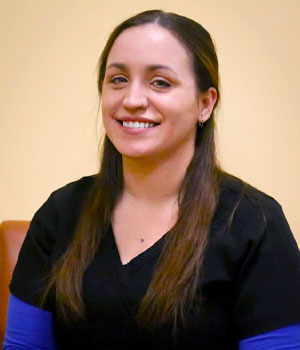 Aurora, Client Liaison
Addressing and taking care of our clients' needs is one of the many roles Aurora helps with as a Client Liaison for Stone Veterinary Hospital. She does so with implicit care, tending to the needs of our clients on an individual and unique basis. Each client and patient have a different story, and Aurora is great at working with our clients learn about them and to come to better understandings.
She offers experience in emergency medicine, and is a great help with answering phones, scheduling appointments, managing transactions, and client education.
Aurora was welcomed to our team in May of 2018 but has been working in the veterinary field since 2000. Prior to joining Stone Veterinary Hospital, Aurora has worked with other veterinary hospitals serving as a client liaison, discharge nurse, and assistant. She also has experience as a Volunteer Coordinator at Purr Project, a no-kill cat shelter.
"The staff at Stone Veterinary Hospital truly care about the patients and their families," Aurora denotes. "Our doctors are some of the most dedicated that I have ever met."
Aurora loves to spend her spare time with her family and children, Logan and Ava. They own 3 cats of their own, all Domestic Short Hair cats, named Akio, Keagan, and Allen.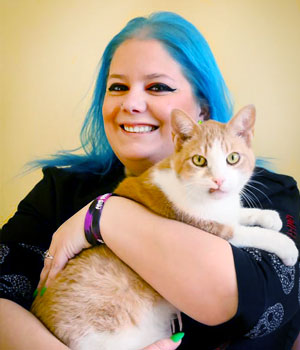 Sarah, Client Liaison
Sarah has been a client liaison with us since September of 2021 and loves interacting with all the different breeds of animals! She is the first and last point of contact with all our clients, schedules appointments, and conducts other clerical duties.
"Everyone is like family here. Everyone works together to make the patients' and clients' experiences the best they can be."
Sarah has a whopping 21 pets: eight ball pythons, one Brazilian rainbow boa, two leopard geckos, five guinea pigs, two cats named Gi and Tamika, two dogs named Thomas and Luna, and a goldfish named Dorothy.
When she's not working, she loves crocheting, drawing, spending time with her animals, watching horror movies, and spending time with her family, friends, and boyfriend.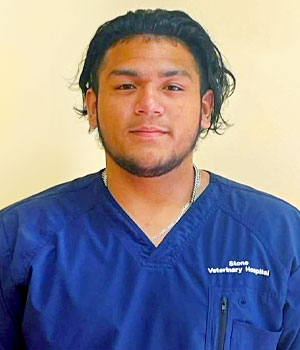 Fredy, Kennel Assistant
Known for his positivity, willingness to learn, and strength, Fredy has been a member of our team since March 2022, but he started when he was 13/14 years old when he shadowed the staff. He also has prior experience working on a farm with cattle. As a kennel assistant, his daily duties include assisting technicians, receptionists, and doctors with patient restraint when needed and maintaining the cleanliness of the hospital.
"Stone Veterinary Hospital has given me insight into veterinary medicine and care since I was 13 and shadowing. Since joining team Stone, I have continued to expand my knowledge and create bonds that can never be broken."
Fredy has three cats, Princess, Pixie, and Sasha. He also has two guinea pigs named Thing 1 and Thing 2 and a dog named Baby. In his free time, he loves playing football and working on cars.